Our staff work in an open, transparent office environment that promotes teamwork above all else. This system benefits the firm by making workflow more efficient and benefits the individual by generating a strong support system for those who want to learn and grow as much as possible. You will feel welcome from your first day and ready to share your ideas!
Additionally, our engineers will have the opportunity to participate in "lunch & learns" and hear more about the latest technology and product lines, to receive support during their professional registration training, and to attend industry conferences nationwide.
---
Available Positions
Systems West is always looking for new and experienced talent to join our team. Please submit a resume and cover letter to office@systemswestengineers.com.
P/T Marketing Coordinator
We are seeking an experienced, part-time Marketing Coordinator to be responsible for overseeing all company-wide marketing efforts.
Mechanical Project Manager
Manage a collaborative design team that performs the study, design, and/or construction administration of mechanical engineering projects.
Electrical Project Engineer
Manage a collaborative design team that performs the study, design, and/or construction administration of electrical engineering projects.
Commissioning Engineer
Manage and implement the commissioning process so commercial, institutional, and industrial facilities perform as intended.
---
---
Compensation
Along with a competitive salary, Systems West offers the following benefits package:
Full medical and dental insurance coverage, with employee premiums paid by the firm
Vacation and holiday pay
Sick pay
Retirement plan
Flexible time off (project deadlines permitting)
---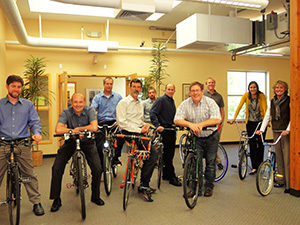 Internships
**All Summer 2017 Internship positions are filled.
We are accepting applications for Summer 2018.**
Systems West supports students and professionals looking to shift their career path. Our internships are flexible in terms of time and scope and can be tailored to individual talents and interests. Our small firm will give our interns the opportunity to experience the real world of consulting engineering in a hands-on way.