Our Approach to Energy
---
We shaped our approach to account for each key perspective on our way to minimizing the ecological impacts of the built environment. Through close, thoughtful collaboration with various stakeholders, we can inform our deepest analysis with clear goals and a realistic path to implementation.
01
Planning
Trajectory & Guidance
We kick off an energy analysis by leading an open discussion and listening closely to the owner's objectives for the building. With a baseline understanding of its performance and issues, our team can advise on scope and direction for the project, and preview how we'll guide our collaboration.
Clarity on Success Metrics
Project & Team Elevation
Technical Depth
02
Discovery
Trust & Momentum
The project team expands as we sync up with your facilities team to uncover all the information we need, including MEP drawings, sequence of operations, and building system trend data. Our in-house design and commissioning expertise helps us to ask better questions for more thorough discovery and an informed approach to the onsite visit.
Identify Key Data & Documentation
Explore Symptoms & Issues
Incentive Funding Facilitation
Project & Team Elevation
Technical Depth
03
Onsite
Context & Possibilities
Once in the building, we review site plans and do a detailed walk-through of the facility with the people that know it best — your maintenance crew. By hearing their experience and seeing the space first-hand, we have a more complete picture of where the challenges lie and how you might create efficiencies.
Formulate Impactful Opportunities
Understanding of Limitations
Project & Team Elevation
Technical Depth
04
Analysis
Clarity & Accuracy
As we synthesize our findings, we reconnect with the owner and project team to solidify the scope and hone the direction of our deeper analysis. Together we'll ensure major questions are resolved while informing the most current and accurate analysis with insights from vendors, utilities, and the cross-disciplinary team at SWE.
Right-Fit Assessment & Methods
Vendor-Informed Costs & Efficiencies
Project & Team Elevation
Technical Depth
05
Report
Informed Decisions & Path Forward
Beyond delivery of our clear and detailed report, what's most essential in this phase is continuing the conversation. As other stakeholders join in, we answer remaining questions to arrive at a shared understanding. The insights we offer are only as useful as they are actionable — we'll guide you through what's next for implementation with our design and commissioning experts at the table.
Clear & Actionable Recommendations
Project & Team Elevation
Technical Depth
Energy Services
---
While our technical expertise informs building solutions, what you'll experience as a project leader is consistent momentum and a streamlined path to optimal performance and improved occupant experience. We equip the project team to meet and often exceed sustainability benchmarks like LEED and net-zero.
From pre-design cost-benefit analysis to equipment simulations, our insights inform critical decisions to help balance investments in the building envelope, active and passive systems, and on-site renewable energy systems.
Whole-building
Energy Modeling
Early Design Assistance
Energy Trust of Oregon Path-to-Net Zero Support
LEED Compliance
SEED Compliance
Code Compliance – Performance Rating Method
Simulation-Aided Design Support
Energy
Studies
Life Cycle Cost Analysis
Feasibility Studies
SB 1149 and Utility Incentive Coordination
Energy Trust of Oregon Technical Analysis Studies
Energy Efficiency Measure (EEM) Comparative Analysis
Green House Gas Emissions Reduction Analysis
Energy
Audits
Buildings and Central Plants
Energy Benchmarking
EEM Identification
Controls Optimization
Featured Energy Work
---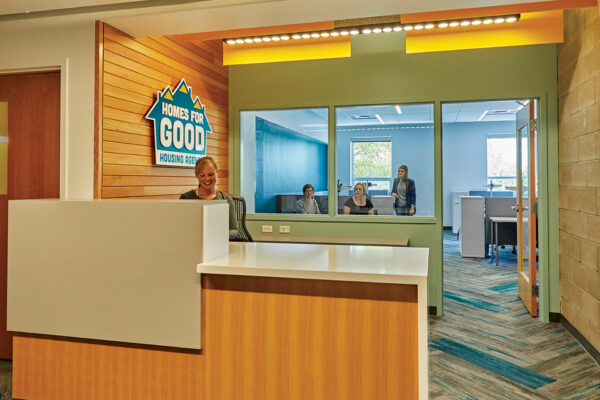 Homes for Good, formerly the Housing and Community Services Agency of Lane County, is Lane County's center for affordable and low-income housing and services. It is comprised of many different departments, each with its own processes, clients, and daily priorities