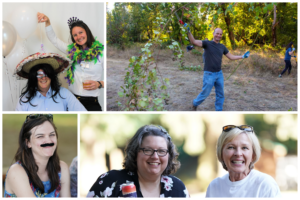 We believe that excellence is a steadfast commitment and constant endeavor. We seek to elevate our team, our clients, our city, and our global environment in everything we do. That means embracing a mindset of continuous improvement to support our collective and individual growth.
Elevating our community in this way requires discipline. We strive for excellence and don't shy away from a challenge. Once challenges are overcome, we never rest on our laurels. Where others might say, "good enough," we set our sights even higher, and raise the bar on what's possible.
We honor and support each other's professional success and personal accomplishments by understanding that the company's future rests on each of our own individual knowledge, creativity, and hard work.
Beyond the purely professional, we are not just colleagues but also friends. We know when to work hard and when to play. We take pleasure in each other's company, and we enjoy many of the local area activities together, including local music venues, drift boat fly fishing trips on the nearby McKenzie River, after work socializing at the local breweries, ski trips to area resorts, and even summer sunrise paddle boarding excursions before work.
-Hear from our staff-
I feel a sense of genuine appreciation for the work that I do and being part of a team that values my ideas. My co-workers are professional and friendly and have a great work ethic, which is something that I personally value in my own life.
—Julie, Administration
I started at Systems West Engineers as an intern, not knowing what to expect. After being offered a position and almost a year of being a part of this team,  I can wholeheartedly say it's been an amazing experience—a great place to work and learn. Everyone here is friendly, helpful, and they all want to come in and do the best they can every day. They all work well together as a team, and I couldn't ask for a better place to be.
—Freddy, Mechanical Designer
I appreciate being part of something bigger, something with a purpose. I am grateful to work for a firm that appreciates hard work, isn't interested in politics, acknowledges staff for their capabilities, and embraces the diversity of the individuals and their contribution to the team. Systems West has been a safe space to learn and grow, where there is trust, high expectations, and understanding when "life happens." When I first started, my initial observation was that I had never seen a harder working group of individuals who truly care about what they do and are just good people. That remains true to this day. The SWE team is the best team!
—Heather, Associate & Office Manager