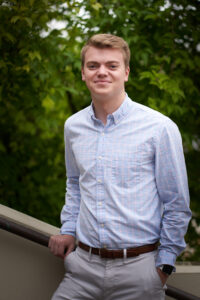 When I first learned about Systems West Engineers, a colleague of theirs introduced them as "Rock Stars" in their profession. This was only the start to their impeccable review. With some initial research, I quickly found that they had won the 2018 Employer of the Year Award and had ranked in the top 100 green workplaces in the State of Oregon. Before I had even learned the scope of their engineering work, I was impressed. My studies in the school of engineering at Tufts University have been focused on sensing and manipulating analogue and digital signals. Unfortunately, through my education I have not yet been exposed to a huge part of electrical engineering; power distribution. This is central to the electrical work Systems West does as a building systems engineering firm. This exposure, paired with their excellent reviews, made their internship program an exciting opportunity for me.
As an intern, I learned much more than just power distribution. I was tasked with developing an electrical training program for new employees, giving me the unique ability to contribute to the company while also advancing my own knowledge. The training program I helped develop focused on four major areas: understanding how to read and apply the National Electric Code, how to use Revit, basic lighting design, and how to use company electrical resources. Through this process, I reviewed and participated in many trainings to help find the most effective resources in each area. I was able to apply these skills by going on various site visits and working on active projects in Revit. In addition to technical engineering skills, the smaller scale of Systems West let me explore my passion for business by giving me direct access to department heads. Participating in management meetings and helping with marketing tasks allowed me to learn more about the intricacies and complexity of running a consulting engineering firm.
Even more impactful than the work were the people at Systems West. Everyone that I have had the pleasure to work with during my internship has been warm, friendly, and intelligent. From the moment I first walked into the office, everyone has greeted me with a smile. Even with the busy deadline-oriented work environment at Systems West, people are not only willing, but happy to pause what they are doing and help me or anyone else who needs it. The collaborative culture at Systems West permeates into everything that they do. Sitting in on client meetings made it apparent that employees at Systems West are constantly working to go above and beyond to accommodate the needs of the owner. Working alongside people who inspire excellence has driven me to create the best work that I can during my time here.
Following this internship, I will return to Tufts University to complete my junior year. I will return with a broader understanding of the field of electrical engineering. I have been exposed to lighting design and power distribution while also becoming proficient in Revit 2018 and 2019; but, the most impactful part of my time at Systems West has been the impressive leadership. Learning from and observing the management team has shown me how much I enjoy the creative problem solving required to run a business. My time at Systems West has inspired me to consider pursuing an MBA after I complete my undergraduate degree. I am grateful to have had this excellent opportunity for growth and learning, and look forward to integrating this expanded view into my future studies.
Reflection by Cole T., aspiring Electrical Engineer
August 2019