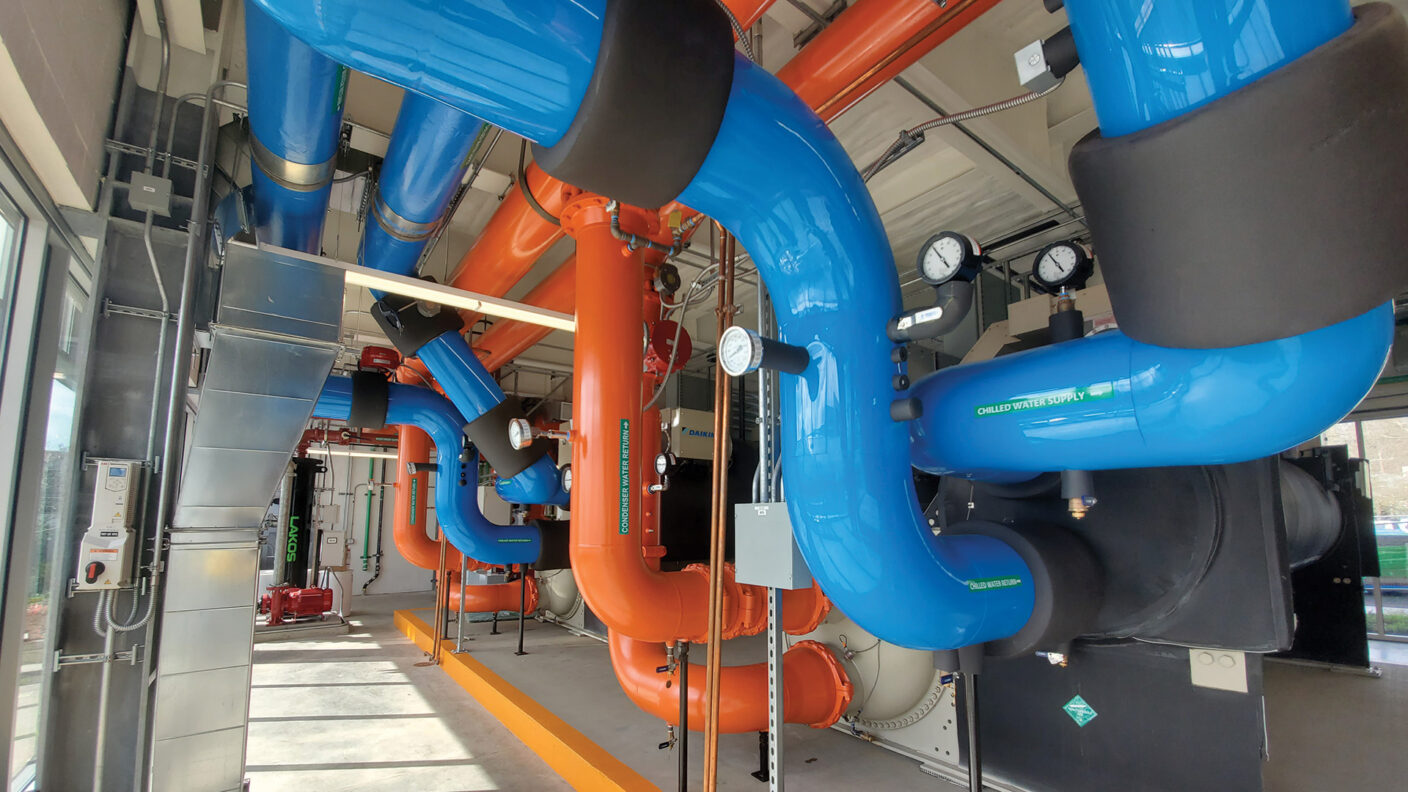 8,000 gpm of chilled water distribution capacity
52% below Oregon Energy Code
$400K energy-efficiency rebate
Oregon State University North District Utility Plant
Utility Infrastructure Innovation
OSU needed solutions to address aging building systems, improve operations, make significant strides in sustainability, reduce greenhouse gas emissions, and to accomplish this within the reality of their current financial framework. A single centralized chilled water plant with campus-wide distribution was considered, and it was determined that this was not economically feasible. Systems West partnered with OSU to develop a master plan that is based on a distributed production model, enabling incremental development of the distribution system, which allows OSU to build-out the systems over time as projects and funding become available. The northwest district utility plant became the first phase of infrastructure build-out serving the core of campus science research. Our experience with central utility chilled water systems and our in-house central plant modeling capabilities enabled us to successfully guide this project to completion.
Planning and design of the district utility plant involved transformative innovation of plant and distribution concepts including:
Application of dual compressor mag lev bearing chillers
Simultaneous operation of three 1,500 chiller down to as low as 450 tons of cooling load
Simultaneous operation of six cooling tower cells through the entire range of plant loading
Expanded plant operating range from 150 tons to 4,500 tons without chiller load cycling
Condenser water operation down to 45oF that enables chiller performance to 0.17 kW/ton
Plant operating sequences that are truly next level in terms of simplicity and effectiveness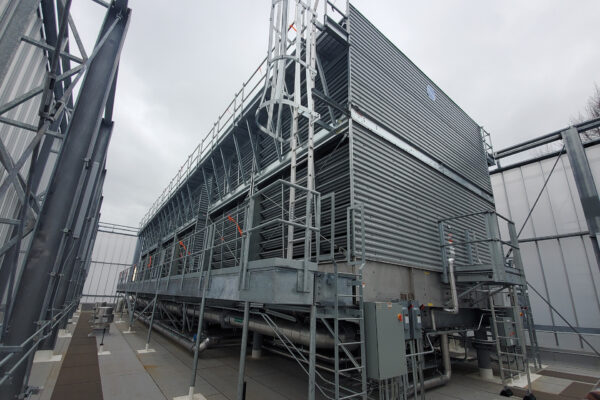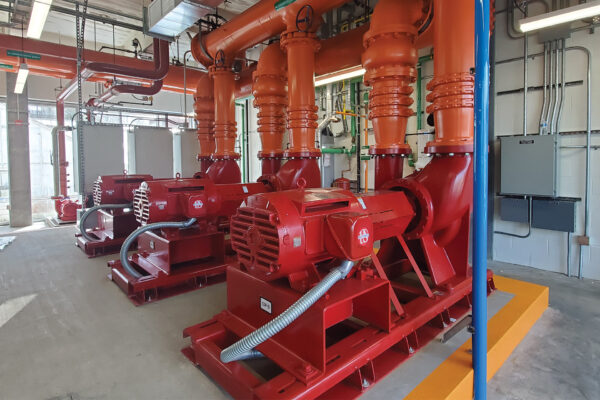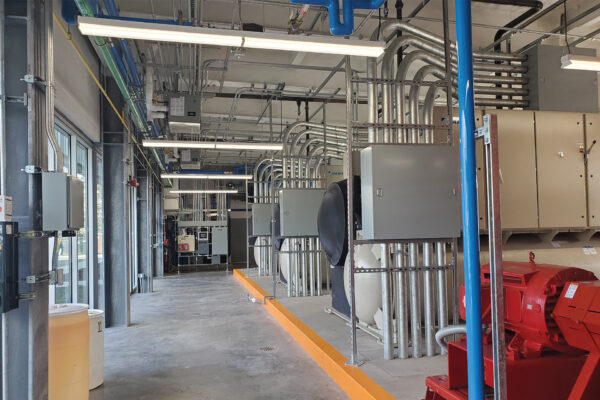 Technical Depth, Simplified Systems
One of the challenges of this project was determining the campus distribution system layout and projected sizing. We worked closely with the owner to determine chilled water usage, future projected needs, and optimal plant locations. We leveraged new software to help model a campus-wide distribution system with consideration for the phasing requirements of retrofitting piping in individual buildings and connecting to the new campus chilled water distribution system.
We also partnered with OSU and the Energy Trust of Oregon to perform an energy analysis to demonstrate that the new utility plan would have an energy consumption that was nearly one-half of what is allowed by the Oregon Energy Code. We performed our analysis using in-house central plant energy modeling software that provides a detailed hourly simulation of central plant operations including complex equipment part load performance algorithms.
Plant design was a highly integrated process including OSU , the CM/GC along with mechanical and electrical trade partners. We also collaborated with various chiller and cooling tower manufacturers to select the best chiller/cooling tower combination that would meet the owner's needs for cost and performance.
In collaboration with the university's chemical treatment consultant, we developed innovative chemical treatment solutions and specified the correct treatment for the condenser water and chilled water loops to extend the life of the equipment and piping. Our mechanical design team's insight was invaluable in determining optimal equipment selections.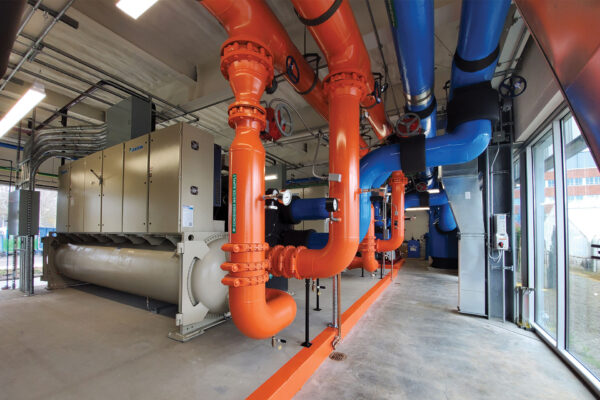 We designed the chilled water and condenser water systems in a primary-only configuration with pumps that were not associated with individual chillers. This allowed the chilled water and condenser water pumps to operate at peak efficiency, regardless of the number of chillers operating. We also incorporated the Cordley Hall heat recovery chiller into the campus system to efficiently provide chilled water during periods of low load in the winter.
It took deep technical analysis to get all cooling towers operating simultaneously. The OSU DUP uses magnetic levitation bearing technology for the chillers, which dramatically reduces energy at part-load performance. We paid careful attention to cooling tower operating ranges so that anywhere from 1 to 3 chillers could operate with all cooling towers active. This made the plant exceptionally simple in terms of configuration and operations — another project objective achieved.
Elevated Performance
Overall, the owner was excited to have a well-thought-out chilled water distribution plant and system that they could expand as they connected more buildings.
With our unique experience with central plant energy studies, we led a feasibility analysis for decision makers who would fund this project. We worked with the Energy Trust of Oregon to document the project's savings of 2.1 GWh of electricity per year — ultimately securing an energy efficiency rebate of over $400,000 for the university.